Related to our article about the pioneering gourmet notion, highlighting the synesthesia experience between tea and fragrances, this time we have a look on the original scented candles, elaborated by State Of Mind. This project succeeded to made the founder Catherine Laskine-Balandina's childhood dreams come true, through this new vision of artistic perfumery. As you would observe, her personal Art Deco themed concept offers a whole new experience where the choice of your perfume emanates from your choice of tea, since here they are together linked. As the perfume universe is not only considered a symbol of pleasure, but also reveals anyone's state of mind, her State Of Mind colorful and olfactory adventure explores, this time through her wide collection, further fascinating fragrant aspects (photo credits: State Of Mind).
Therefore, you would be amazed by the powerful combined potential of tea and fragrances both able to cause emotions that influence your thoughts, while keeping up to encourage your inner introspection and thus awakens your essential senses. That's why we invite you to stimulate your perceptions (where taste is intimately linked to smell), within those scented candles, which would sure make you more radiant, provide you good energy or calm you down. Regarding the State Of Mind selection, you would have a choice among 11 distinct universes, including tea to drink, perfumes to wear, home fragrances to spread and those wax squared scented candles to disseminate.
By the State Of Mind founder, Catherine Laskine-Balandina
"It was by listening to the tales invented by my dear grandmother and the storytelling of her travels, that I got to know China: the Seven Dragons Wall, the Great Wall, its gardens, its many ancestral arts represented through calligraphy, acupuncture, likewise a gracious lotus flower arising from a porcelain cup of tea, its related fragrances and naturally the multiple colors framing the local tea shops. I felt like I was living in this magic. I tasted everything by proxy. "
For instance, these State of Mind scented candles are handmade in France. They would undoubtedly surprise you with their original shape, composed of wax squares and with the intensity of their fragrance. Their candles are proposed in a way of refilling forms, so that you may employ them, in order to create your own candled creation, in a vase of your choice.
Hereby, by way of example, as we propose you the Natural Elegance candle, aimed to reveal your inner elegance, thanks to a special harmony found within the notes of green tea from Yunnan, osmantus and some juicy apricots. This ensemble is underlined by a floral hint of patchouli and ambroxan. These aromas reflect the mixed marriage between tea and fragrance in a scented candle, like a tea ceremony to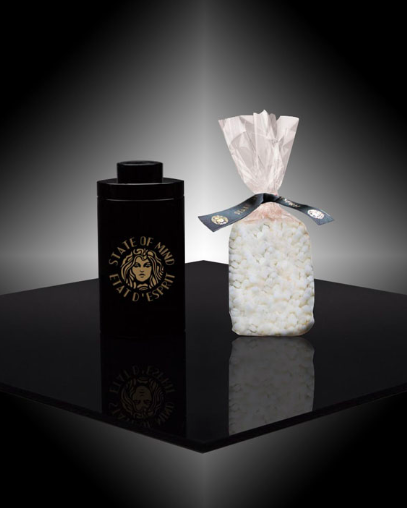 share since its first burning. Thus, its salty, bitter but sweet sensations would eventually complete your art of tea, with alternative olfactory characteristics and then surely reach a brand new spiritual state of mind. A modular path to access to a groundbreaking concept to light up your ideas!
The State Of Mind team even left you some instructions for an optimal use of those cubed candles :
Take out the sachet containing the perfumed wax cubes from the metal box.
Place the wick in the middle of the recipient of your choice and pour the wax cubes around the wick.
Pack this wax surface around the wick and light the wick to start this candled tea ceremony, to enjoy the fragrance and the moment…
The State Of Mind candles burn like classic candles. If you wish to extinguish it and keep its odor, it is preferable to replace its cover. Therefore, you would appreciate the fact that this scented candle may be burned in a crystal, glass, earthenware or even in a metal container, in which it would take the form. One additional tip, opt for a transparent container, where your candle may look particularly resplendent through the panels. Otherwise, a larger candle can in the same vein, be made using several wax refills and wicks.
Plus, it's worth to remind burning this candle, only inside fireproof recipients and before use, avoid exposure to any heat and sun, in order to preserve the wax integrity and then expect a burning time of approximately 70h.
Available in 200g sachet format on the official website, for a recommended price of 80 euros.