Tea Is the Word for the French Perfume House State Of Mind
Perfume and Tea house STATE OF MIND, founded by Catherine Laskine-Balandina in 2017, brings together the art of perfumery and tea. Right off the bat, the company released a line of ten compositions, and in 2019 their latest edition was added to the collection. The brand presents its fragrances in a retail environment they call an Olfactory Tearoom, with a perfume and tea ceremony going deep into the knowledge of the history of tea and perfume, literature and philosophy.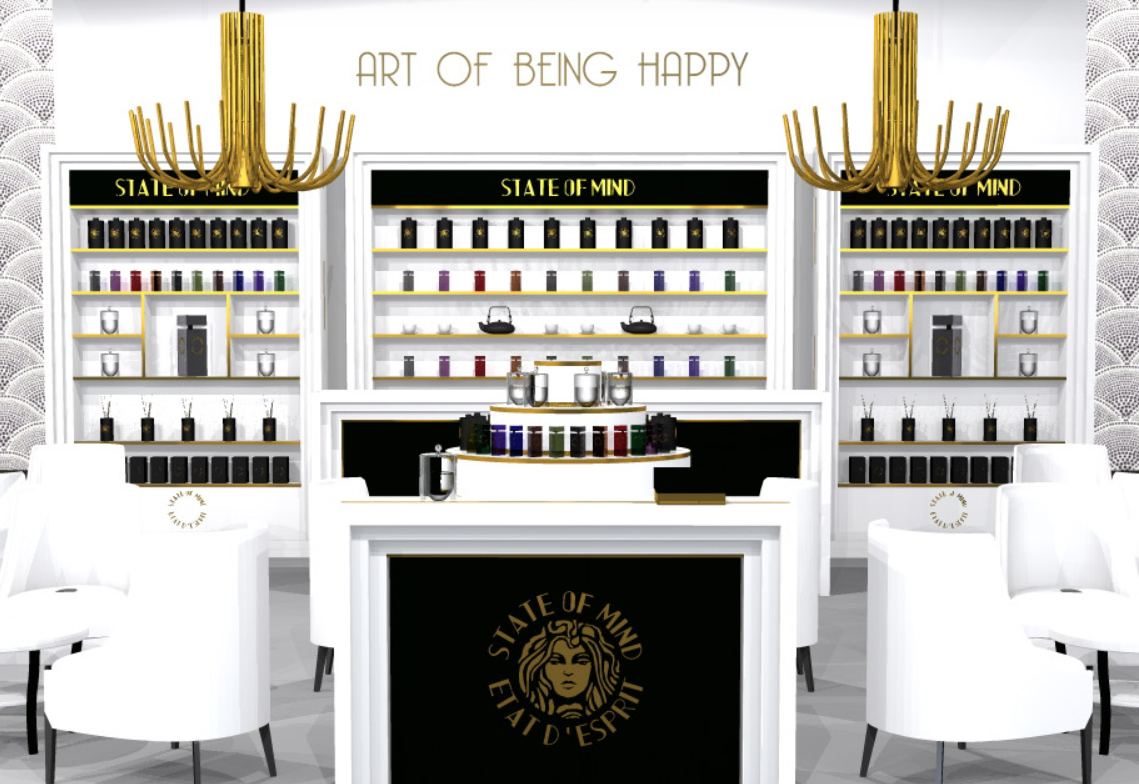 "Perfume, beyond being a symbol of pleasure, elegance and wealth, has a strong influence on our state of mind. This fascinating property is being further explored through this new collection. Tea, similarly to Perfume, brings you to a joyful state, energizes or calms you down; it helps you discover your personal image and awakens your artistic skills. Both Tea and Perfume generate emotions and feelings affecting our thoughts." -Brand Website.
The perfumes are developed by Karine Dubreuil in collaboration with tea master Olivier Scala, who worked on the flavors of the teas. Karine Dubreuil was born and raised in Grasse, the worldwide capital of perfumery, and studied at the Roure school (now Givaudan). She composed fragrances such as Eclat d'Arpège by Lanvin, l'Eau des 4 Reines by L'Occitane, Envy me by Gucci, Aqua Allegoria Pivoine Magique, Yves Saint-Laurent Vice-Versa, Roberto Cavalli Just Cavalli Her, and many more. Today she has founded her own perfumery company VOX PROFUMI.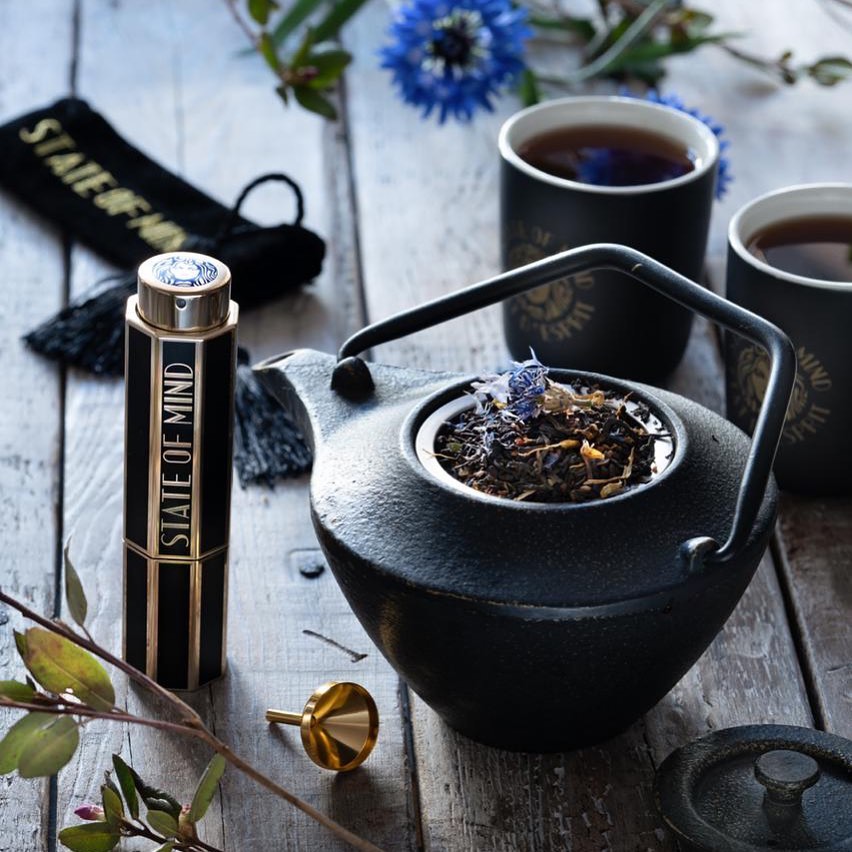 Tea has been connected to the East since ancient times, but according to the brand it is currently undergoing a bit of a renaissance in the West. Sales for green and herbal teas have never been higher, and the emergence of different types of tea-drinks at coffee places (the Chai Latte taking the lead) suggests that people are starting to embrace the drink as much as they do coffee.
This renaissance is echoed in the Cosmetic and Fragrance industry as well. An example is the brand Cha Ling – a Maison launched in 2016 that is designed and managed by Guerlain. Cha Ling is inspired by Chinese culture, offering a variety of products including cosmetics, fragrance (personal and home), forest-grown pu'er tea for drinking, and teapots/ceramics. Other examples of the tea wave are the skin care and fragrance brand Teaology, the niche perfume house Floraiku by Memo Paris, the "Rare Teas Collection" by Jo Malone (also from 2016), or the The Bulgari Eau Parfumée Collection, consisting of 5 different tea fragrances as well as an assortment of pampering bath&body care products and candles dedicated to each tea (Thé Vert, Thé Blanc, Thé Rouge, Thé Bleu, and the latest release Thé Noir.)
The other way around works as well: the Theodor Tea House worked with Nina Ricci to celebrate the 10th anniversary of its perfume Nina. On this occasion, Theodor launched the tea Nina Pop Infusion, which is the gustatory version of the perfume.
State of Mind is the brand that zooms in even more on this idea of challenging the barriers between tea and perfume by matching the taste facets of teas with the olfactory pyramid of the corresponding perfume.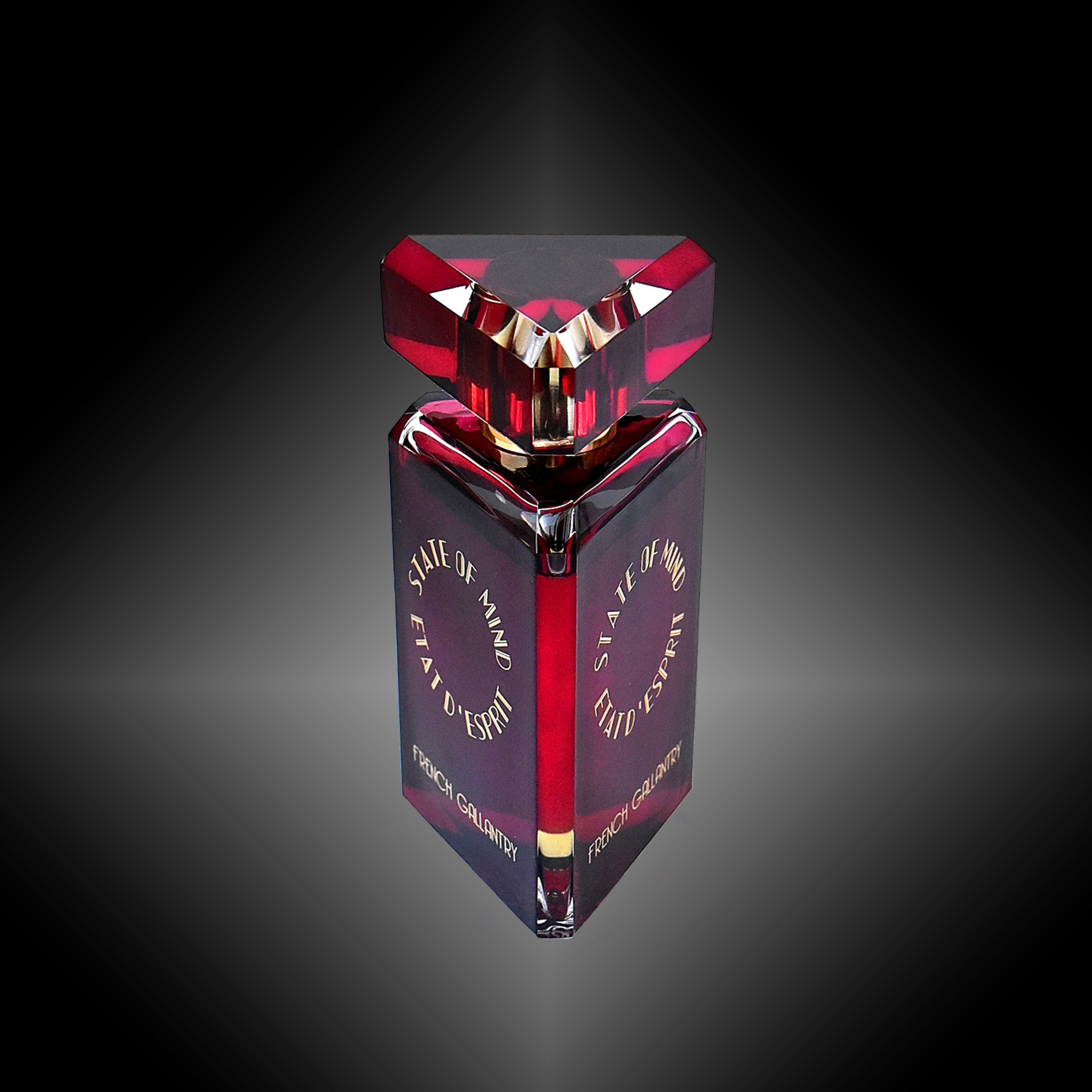 Their latest launch, unveiled at the Esxence fair in Italy in 2019, is called French Gallantry and celebrates chivalry, mixing in "a little grain of madness." The fragrance is launched as unisex, stating that Guillaume Apollinaire wrote in 1915 in Les Trois Don Juan that "a well-born man could be recognized by two qualities: courage and gallantry," but that earlier, in 1847, Auguste Guyard declared in Quintessence that "gallant women make daring lovers."
"French Gallantry could serve as a model of perfumed harmony. The vigorous freshness of the Tomato and Basil arises on the intense notes of Laurel, Oregano, Thyme. The subtle combination of Kenya Black Tea and Clary Sage with Heliotrope offers a sensual trail of amber and smoked wood. The French Gallantry perfume reveals and emphasizes the charisma, strength and elegance of the wearer." -Brand Website.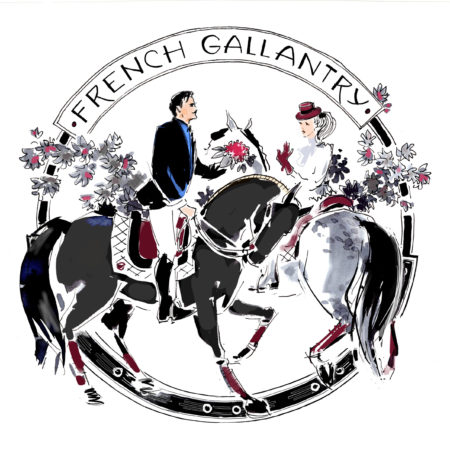 French Gallantry starts off with a fresh, aromatic hit of tomato, basil and black tea. The intense notes of laurel, oregano, and thyme in the heart continue the aromatic character but the gentle flowery note of heliotrope adds some sweet softness to the composition. The trail is highlighted by amber and smoked woods and leaves a light leathery, animalic touch behind on the skin. This is a fragrance I personally mostly associate with masculine perfumery, and the gallantry it aims to evoke I mostly find in the pleasing, gentle, somewhat serious dry down that has a hint of the scent of someone who just finished a horse ride.
French Gallantry is also offered as a tea ("from the highlands of Equatorial Africa (2200 m) in Kenya.") It's described as a tea with a dark liquor nuance offering a full-bodied cup reminiscent of wood and leather, without bitterness. "Perfect for the morning, this tea combines the invigorating freshness of tomato-basil with the vigor of aromatic herbs: Laurel, Sage, Thyme, Oregano," says the brand.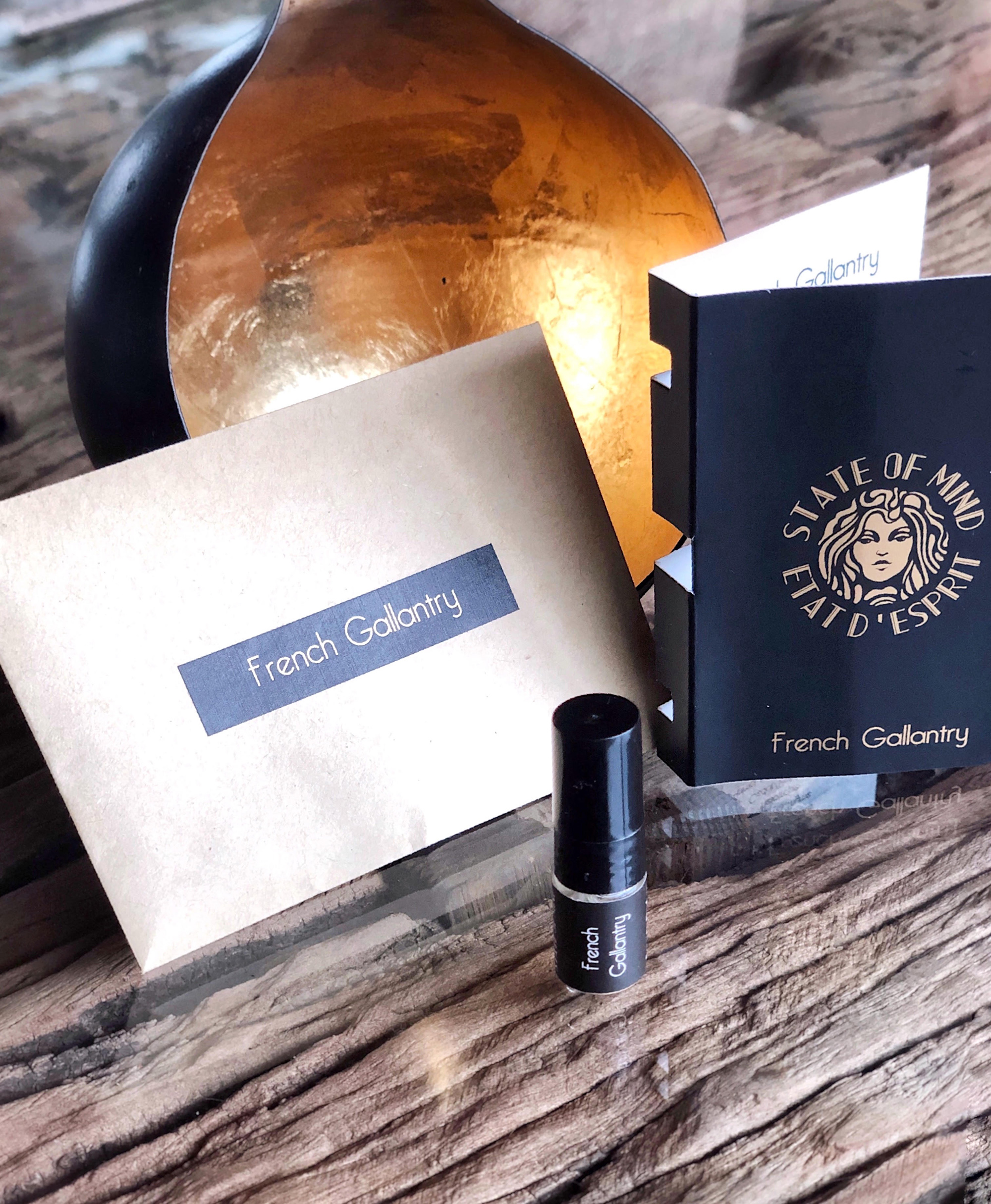 State of Mind fragrances are offered in 100 ml Eau de Parfum priced at €225, available through the brand's website and various points of sale world wide. Perfume samples as well as tea samples can be purchased for €2, or a sample set of the first 10 perfumes for €20. For French Gallantry the house created a separate sample kit with 1 fragrance sample (1.5ml) and 1 sachet of scented tea, priced at €4.