We are delighted to share the news of our brand State of Mind being featured in the prestigious magazine L'Officiel Monaco 2023.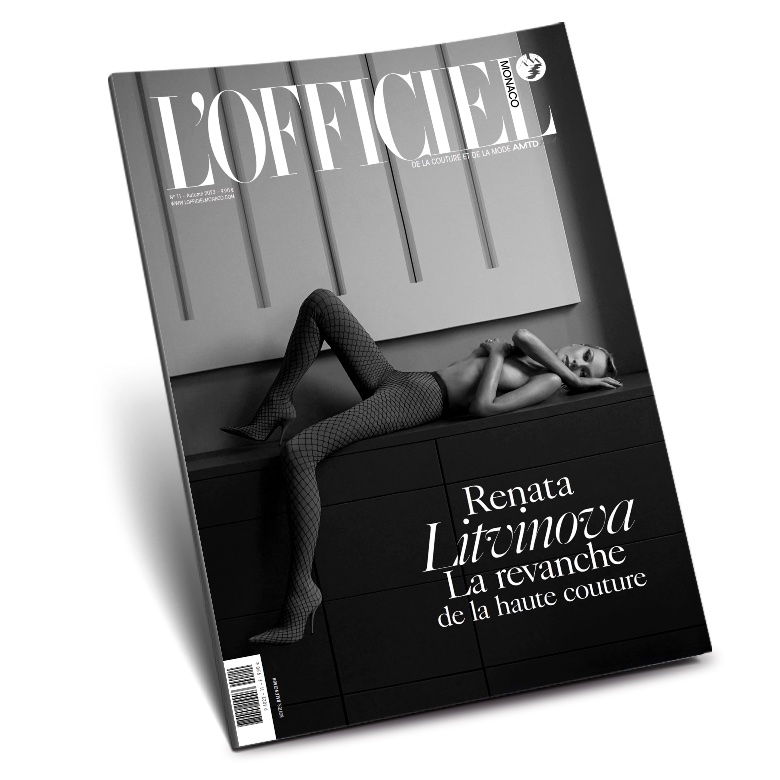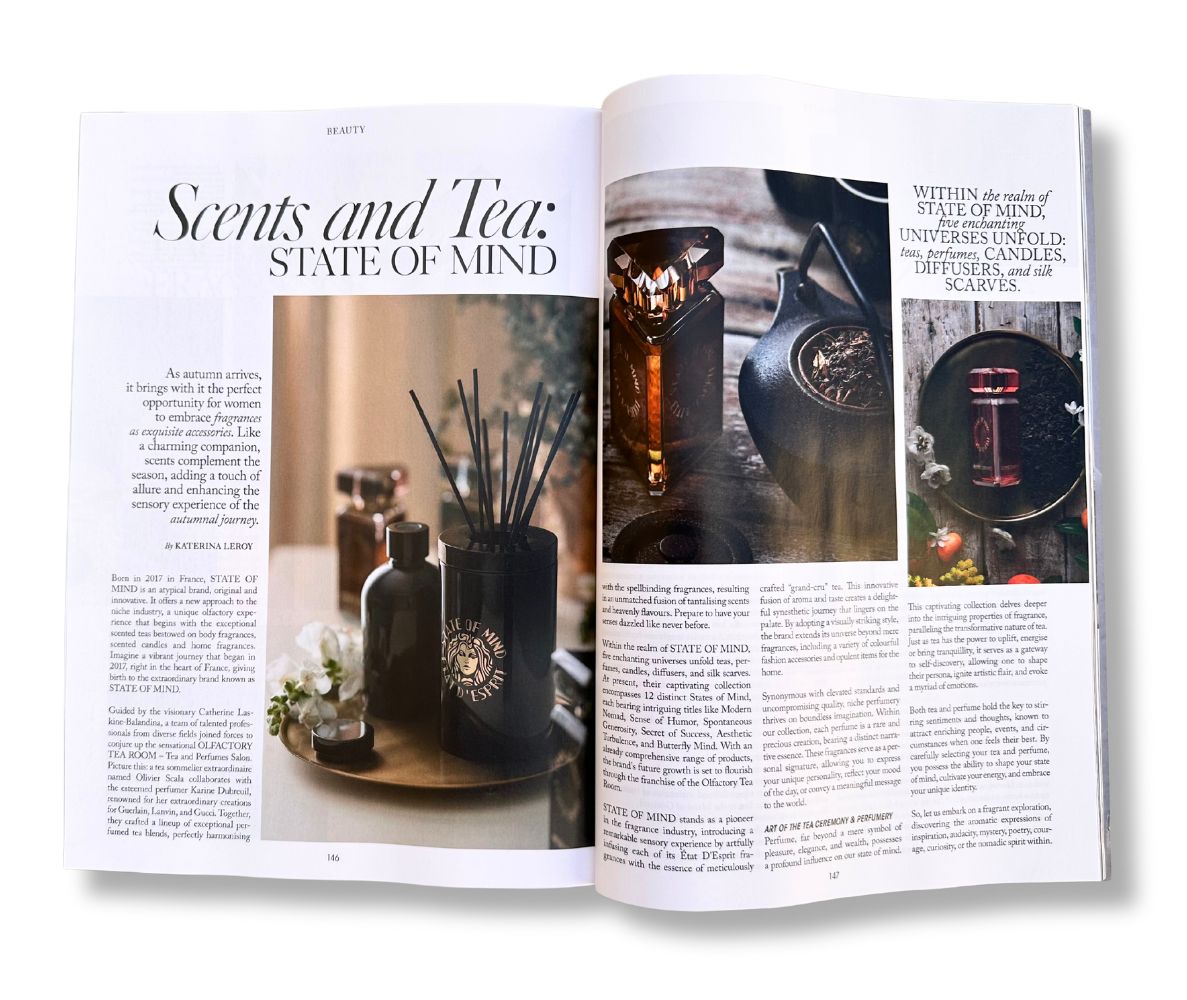 As autumn arrives, it brings with it the perfect opportunity for women to embrace fragrances as exquisite accessories. Like a charming companion, scents complement the season, adding a touch of allure and enhancing the sensory experience of the autumnal journey. L'Officiel Monaco publication Autumn 2023.
Article by KATERINA LEROY
Born in 2017 in France, STATE OF MIND, is an atypical brand, original and innovative. It offers a new approach to the niche industry, a unique olfactory experience that begins with the exceptional scented teas bestowed on body fragrances, scented candles and home fragrances. Imagine a vibrant journey that began in 2017, right in the heart of France, giving birth to the extraordinary brand known as STATE OF MIND.
Guided by the visionary Catherine Laskine-Balandina, a team of talented professionals from diverse fields joined forces to conjure up the sensational OLFACTORY TEA ROOM – Tea and Perfumes Salon. Picture this: a tea sommelier extraordinaire named Olivier Scala collaborates with the esteemed perfumer Karine Dubreuil, renowned for her extraordinary creations for the likes of Guerlain, Lanvin, and Gucci. Together, they crafted a lineup of exceptional perfumed tea blends, perfectly harmonizing with the spellbinding fragrances, resulting in an unmatched fusion of tantalizing scents and heavenly flavours.
STATE OF MIND – HOUSE OF FINEST PERFUMERY AND HIGH-ENDED TEA
Prepare to have your senses dazzled like never before. Within the realm of STATE OF MIND, five enchanting universes unfold: teas, perfumes, candles, diffusers, and silk scarves. At present, their captivating collection encompasses 12 distinct States of Mind, each bearing intriguing titles like Modern Nomad, Sense of Humor, Spontaneous Generosity, Secret of Success, Aesthetic Turbulence, and Butterfly Mind. With an already comprehensive range of products, the brand's future growth is set to flourish through the franchise of the Olfactory Tea Room.
STATE OF MIND stands as a pioneer in the fragrance industry, introducing a remarkable sensory experience by artfully infusing each of its État D'Esprit fragrances with the essence of meticulously crafted "grand-cru" tea. This innovative fusion of aroma and taste creates a delightful synesthetic journey that lingers on the palate. Embracing a rich visual aesthetic, the brand's universe extends beyond scent, encompassing an array of vibrant fashion accessories and luxurious home products.
Synonymous with elevated standards and uncompromising quality, niche perfumery thrives on boundless imagination. Within our collection, each perfume is a rare and precious creation, bearing a distinct narrative essence. These fragrances serve as a personal signature, allowing you to express your unique personality, reflect your mood of the day, or convey a meaningful message to the world.
ART OF THE TEA CEREMONY & PERFUMERY. L'Officiel Monaco publication
Perfume, far beyond a mere symbol of pleasure, elegance, and wealth, possesses a profound influence on our state of mind. This captivating collection delves deeper into the intriguing properties of fragrance, paralleling the transformative nature of tea. Just as tea has the power to uplift, energize, or bring tranquillity, it serves as a gateway to self-discovery, allowing one to shape their persona, ignite artistic flair, and evoke a myriad of emotions.
Both tea and perfume hold the key to stirring sentiments and thoughts, known to attract enriching people, events, and circumstances when one feels their best. By carefully selecting your tea and perfume, you possess the ability to shape your state of mind, cultivate your energy, and embrace your unique identity. So, let us embark on a fragrant exploration, discovering the aromatic expressions of inspiration, audacity, mystery, poetry, courage, curiosity, or the nomadic spirit within.